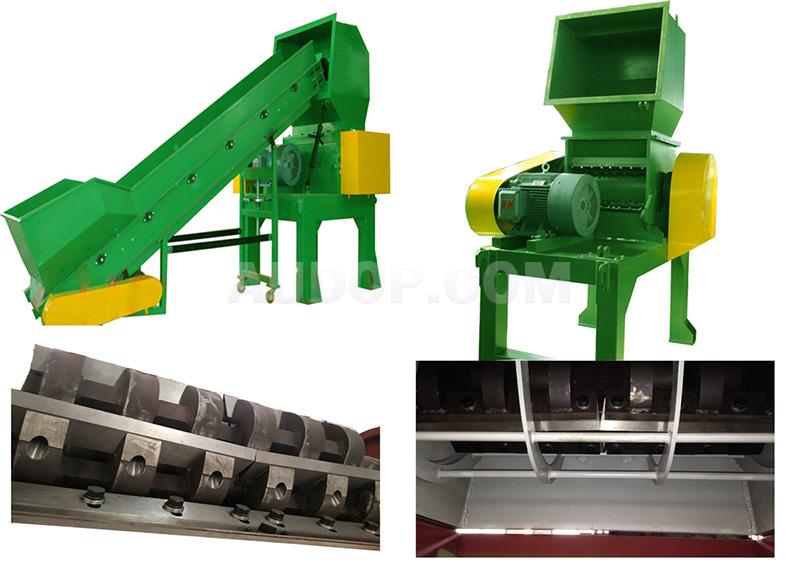 Features
Easy to change blades and mesh screen.
Crushing with water.
Various feeding hopper size.
Mesh size can be customized.

Overview
PP PE film Granulator, Plastic Bags crushing machine,Film and Bags crushing recycling machine.

Application: Agricultural Film, woven sacks, garbage bags, shopping bags. jumbo bags, soft tubes ETC.

Reducing the size of waste before sending it to the following recycling machine is the common method of Plastic Reclaim.

No matter it is bale film or loose bags, the Granulator can shred it into small pieces and pre-wash it.
Technical Parameters
Customers viewing this product may be also interested in:
Easy to change blades and screen.
Various feeding hopper size for small or large bottes.
Crushing with water.
Screen Mesh size could be customized.

The whole machine body is made of special strong steel.
Blade material adopts SKD11 or D2 through special manufacture process and heat treatment; Blades base is made of T10high quality steel with pyro condensation treatment, hard to be broken and damaged.
V-shape cutting geometry to minimize friction between crushing material and both interior sidewalls.
Heavy burden type bearing can keep the unit from vibrating and noise, and prevent the material from pollution.
Equipped with pulley device for reducing speed.
Has protection system with the power supply to ensure the equipment safe.
Opening the hopper automatically with a motor and two mini limited switch.