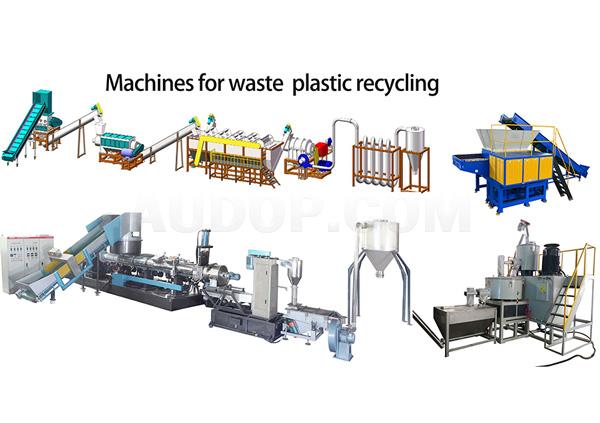 Features
Features and Advantages of Waste Plastic Washing Recycling Machine
This whole production line is used to crush, wash, dewater and dry PP, PE Film and rigid plastic.
It takes the advantages of simple structure, easy operation, high capacity, low energy consumption, safety, reliability, etc.
This whole production line is automatic controlling.
Production capacity: 200-1000kg/h.
After drying the water content can reach 1-5% (depends on material).
Most competitive price, most complete solution, turn-key project.
We can make machine layout diagram according to client's workshop floor plan.
The whole line can be designed on the basis of how dirty the flakes are, we can accord to custom's requirements to choose suitable machines.
Overview
Function of Machines

Waste plastic washing recycling machines are suitable for work highly polluted materials, which must be separated from contaminants before moving to subsequent stages of processing.
The type of material that can be processed
Film with various thickness coming from selective waste collection, industrial waste, post consumer material, agriculture etc.
Rigid materials such as PP PE,HDPE LDPE, containers, electric batteries, milk bottles, bags, sheets, production waste, etc.Those contaminated waste will be perfectly cleaned, size-reduced and dried ready for the re-granulation phase or the densification phase.
Brief Introduction of Plastic washing recycling process
In PE and PP washing line combines "sorting, grinding, washing, drying and storing" processes in one line. This means dirty and mixed waste materials become a raw material for re-use throughout the process.
Following procedures are integrated in our washing lines or can be added additionally:
Material feeding with metal detection
Material size-reduced by wet type granulator
For the use of the simultaneous washing and size reduction of soiled feed material
High speed of friction washer
Special design of friction washer is used to wash highly contaminated film flakes. They are used for discharging treated material mixed with water from a wet grinder.This also can be used in special cases where the friction washer can be installed in front of or after washing tank and hydro cyclone units.
Sink-float washer is specially used for separating various of solid impurities such as small stones, dirt, metals and glass etc. This large tank is filled with water which has a density of 1 g/cm3. Depending on the application, additives can be added to slightly augment water's density. Material that goes into this water tank with density greater than 1 g/
cm
3
will sink to the bottom while materials with density less than 1 g/cm3 will float.
In the case of PP/PE films, PP/PE films have a density of around 0.93 g/
cm
3
which makes it float while other various contaminants will sink to the bottom where it is collected and removed via a conveyor system.
This Mechanical Dryer/Centrifugal Washer operates as a centrifuge for film, regrind and mixed plastics.
Thermal dryers convey material into a stainless steel cyclone and discharge it through the bottom opening into bags.


Waste water treatment combined with waste plastic washing recycling machine

The dirty water is collected in a pit and any contamination larger than appr. 0.1 mm is removed. The screened water is stored in a sedimentation basin for the sedimentation of light contamination; the result is circulation water. A pump conveys the circulation water back into the plant.

The dirty water from a washing process is collected, cleaned and then re-circulated. That significantly reduces the amount of fresh water that would have been needed.
Technical Parameters
Technical Parameters
Machine list of Plastic washing line
No.

Description of goods

Quantity

1

Belt Conveyor

1 set

2

Single-shaft shredder

1 set

3

Belt conveyor

1 set

4

Crusher

1 set

5

Screw feeder

1 set

6

High speed Friction Washer




(Sand, small stone, mud remover)

1 set

7

Screw Feeder

1 set

8

Deposit& Floating Washing Tank

1 set

9

Screw Feeder

1 set

10

Centrifugal Dewatering machine

1 set

11

Storage Silo

1 set

12

Control Cabinet

1 set

Machines could be increased or reduced depending on material.
Your requirements are the basis for our development and a daily challenge to bring to fruition, please do not hesitate to inquiry us.

Customers viewing this product may be also interested in:
The main features of Film Squeezer is highly improved the quality of dried Plastic

.

The contaminated plastic after washing will be dewatered before conveying to next machine. The final moisture is below 3%.

Much lower enegy consumption compared with traditional pipe drying system, 30% of power could be saved.

Application material: plastic film, plastics bags, pp woven bag, jumbo bag, thin plastic sheet material.