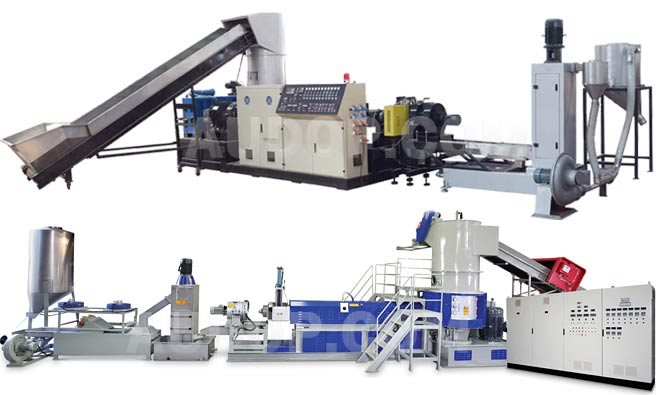 Features
Constant high pellet quality.
Saving. Less power consumption cost per kilogram, reduced floor space occupation and operator attendance.
High efficiency and high throughput. Combines three functions in one, such as shredding, extruding and palletizing. Many materials can be processed directly without need of upstream pre-shredding, resulting in a dramtic reduction in operational costs.
Overview
Plastic Recycling Machine, plastic recycling system, plastic recycling plant
Applicable Materials: PP, HDPE, LDPE, LLDPE, TPV, EVA, ABS, and PS, etc.
Material Shapes: Film, bag, scrap, flake, etc
Material Types: Film(rolls,loose,bundled), agricultural film waste, printed LDPE film, Woven bag, washed post-consumer waste,foamed plastics(EPS) and raffia, etc.
Alias: Plastic recycling equipment, plastic pelletizer, plastic granulating machine, plastic pelletizing line, plastic granulating line, plastic pelletizing system, plastic recycling plant

Plastic Recycling Machine is State-of-the-art technology for high-value processing of plastic recycling. It is used for making the clean materials or washed material into regular uniform pellets(granules), it also is known as the plastic recycling system, film recycling machine, film recycling line, film pelletizing machine, film pelletizing line, granulating line, granulation machine, waste plastic recycling machine, recycling machine, etc.

This plastic recycling machine is consisted of a conveyor, agglomerator, extruder, hydraulic screen changer, cutting system, centrifugal dewater machine, air sending system, and silo. Metal detector, roll feeder, degassing system, chiller, vibrating screener are optional devices, it may be provided depends on the property of the material.

Factory view: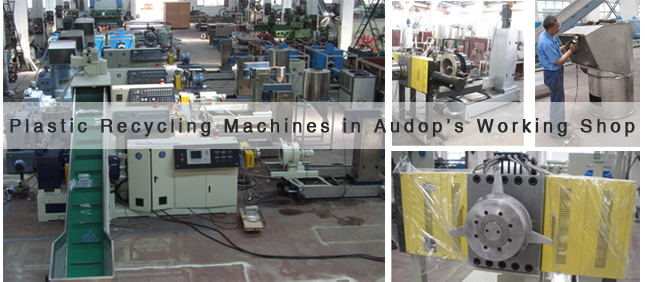 Audop supplies all the products and systems you need to produce the high-quality pellets your business demands. And, since we offer a full range of model sizes, you get more than just proven quality and reliability. You get the freedom to build your pelletizing line around the system components that meet your exact requirements. All subsystem and support equipment such as screen changers, diverter valves, heating systems, classifiers, dryers, water systems, control panels, etc. may be included to provide a total system concept. The result is superior quality, highly reliable machines that turn pellets into bigger profits for you.
While the above may sound similar to other suppliers, we can assure you that the specific execution that we utilize is dramatically better. Upon request, we can provide further specifics of our unique and proprietary approaches, on-going continuous improvements.
Technical Parameters
Technical Parameters
Technical Info of Plastic Recycling Machine
Model
ADP-FR85
ADP-FR100
ADP-FR120
ADP-FR140
ADP-FR160
ADP-FR180
Applicable Materials
PP / HDPE / LDPE / LLDPE / EVA / ABS / PS
Actual throughput per hour
PP=200kg
HDPE=250kg
LDPE=300kg
PP=300kg
HDPE=350kg
LDPE=350kg
PP=380kg
HDPE=420kg
LDPE=450kg
PP=480kg
HDPE=520kg
LDPE=550kg
PP=650kg
HDPE=800kg
LDPE=750kg
PP=750kg
HDPE=900kg
LDPE=960kg
METAL DETECTOR
Optional
BELT CONVEYOR
Type
Rubber belt conveyor
Feed speed
0.05m/sec.
Drive motor
1.1kw
1.1kw
1.5kw
2.2kw
2.2kw
3kw
ROLL FEEDER
Optional
AGGLOMERATOR
Drive motor
45kw
55kw
75kw
90kw
110kw
132kw
EXTRUDER
Main drive motor
75kw AC+INV
90kw AC+INV
132kw AC+INV
160kw AC+INV
200kw AC+INV
250kw AC+INV
Type
With or without degassing system (venting hole)
Screw diameter (mm)

Ø85mm

Ø100mm

Ø120mm

Ø140mm

Ø160mm

Ø180mm

L/D ratio
34:1
34:1
34:1
33:1
33:1
33:1
Screw material
38CrMoAlA, nitrided and chrome plated
Barrel material
38CrMoAlA, precision ground and nitrided
Screw speed (rpm)
0-180
0-170
0-150
0-130
0-130
0-120
Barrel heater
28kw
33kw
45kw
55kw
60kw
72kw
Barrel cooling
Air cooling
Cooling power
3.5kw
4kw
4.5kw
5kw
5.5kw
6kw
SCREEN CHANGER & DIE
Type
Single-plate hydraulic screen changer with double working position
Heater
5.5kw
6.4kw
7kw
7.5kw
8kw
10kw
Filter screener diameter

Ø120mm

Ø180mm

Ø250mm

Ø300mm

Ø350mm

Ø400mm

PELLETIZER
Pelletizing type
Die face water ring pelletiser for PE, underwater pelletiser for PP
Pelletizing motor
3-5 HP AC+INV
Die heater
3kw
3.2kw
3.8kw
4.8kw
6kw
8kw
Pelletizing hole dia.
Hole dia. and numbers depend on material and palletizing type
COOLING DEVICE
Type
Water cooling
Water pump
3kw
Chiller
Optional
DEWATERING&SORTING
Dewatering motor
5.5kw
VIBRATING SCREENER
Optional
TRANSPORT&STORAGE
Blowing motor
2.2kw
2.2kw
3kw
4kw
4kw
5.5kw
Silo capacity
1M3
Model
ADP-FR85
ADP-FR100
ADP-FR120
ADP-FR140
ADP-FR160
ADP-FR180
Your requirements are the basis for our development and a daily challenge to bring to fruition, please do not hesitate to inquiry us.

Customers viewing this product may be also interested in:
Water-ring pelletizing systems(also called water ring pelletizers) are suitable for processing a wide range of polymers, unfilled or filled, in reclaim, masterbatch and general compounding.

Simple start-up: no strands to handle, no water-flow timing concerns.
Hot die-face cutting: insensitive to melt flow interruptions.
Continuous production: high productivity.
Exclusive flex-blade design: no sensitive knife adjustments, extended service life.
Hot cutting in air: saves power vs. cold strand or underwater cutting.

PP PE Plastic Film Washing Recycling Line(also called Plastic Film and Bag Washing Plant) are suitable for processing a wide range of waste films, packing films, agricultural waste films, bags, woven bags, and so on, it is an ideal recycling system for all kinds of material made from PE,HDPE,LDPE,PP,BOPP, such as tables, chairs, and so on.

Simple start-up: it is made up by many seperately machines, running from end to beginning one by one
High Quality: European and Janpanese technologies are adopted.
Continuous production: high productivity.
Years of experience, mature technology,excellent after-sale service,long terms of cooperation.