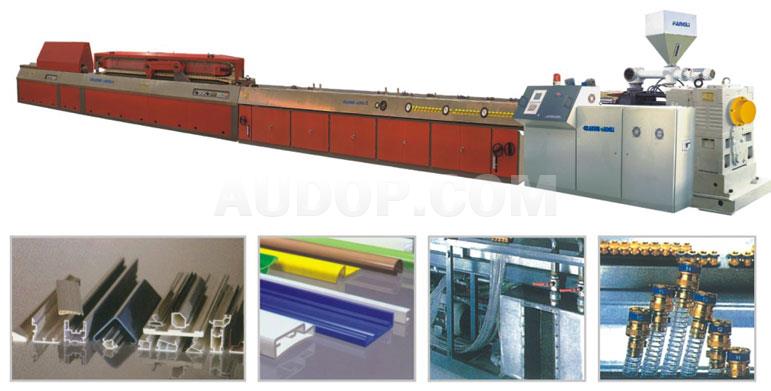 Features
Adopt conical twin-screw extruder which designed according to characteristics of plasticfor extruding PVC profiles.
Combined or independentcontrol each individual unit.
Minimizing the friction and to ensure bright and smooth profile surface.
Cutting machine and haul-off machine connected by synchronous belt, ensuring consistency of speed.
Fast caterpillar pad replacement mechanism, shortened the pad changing time and increasing efficiency.
Overview
Application area of PVC Profile Extruding Machine:
Furniture industry, Construction industry, Automobile industry, andPackaging.
The material which can be processed by PVC Profile Extrusion Line is PVC and WPC powder.
PVC Profile Extrusion Machine's application:
To produce PVC special shape profiles, such as: PVC door, doorframe, wide door, floor, wall panels, window, angle bead, hollow profile, wire casing, fence, ceiling and plate, etc.
Below are the advantages of PVC Conical Twin Extruder Line:
With professional manufacturing and stable function
Able to save 40% energy compared to two step machines
Less area covered and less investment on fixed assets
Less workers needed to operate the machines
Less times of plastic processing, to reduce loss of plastic and avoid degrading its performance
Able to expel moisture and gas easily because of several vents designed
Long time of using time (8760hrs at least)
The Complete PVC Profile Extruding Machine is mainly consist of: Conical Twin Extruder, Profile calibration, Profile haul-off, Profile cutter and Stacker.
Conical Twin Screw Extruder:
The Double Conical Twin-Screw Extruder are mainly used for the processing of PVC profiles, especially the processing of the powdered plastic materials.
The longer screw with the newest double conical structure and variable pitch improve the output by over 30%.
The compact distribution gearbox with the thrust bearings of the famous brand makes the convenient assembly and disassembly.
The hardened gear surface of the gearbox guarantees the heavy duty load and long service life.
PLC computer temperature control system ensures precise temperature controlling.
The main electric components are from the famous quality brand suppliers.
The melt pressure transducers and temperature thermocouple allow the obvious inspection of the melt and easy operation.
Calibrating and cooling
are important process steps in profile extrusion which determine the quality of the finished product.
Low profile shrinkage with maximum output.
Low energy consumption due to perfectly tuned cooling and vacuum systems.
Low profile haul-off forces due to optimum gradation of the calibrating system
Profile Haul-off:
Profile Belt haul-offs for high extrusion speeds of>25m/min
AC servo drive ensure exact synchronization of upper and lower belt and caterpillar
Positive stop for the upper belt
Cross moving device for lateral adjustment for multiple-groove belts
Profile Cutter:
Profile Cutters are available for small and large profiles.
All saws are equipped with highly efficient dust exhausters above and below the sawing level.
High-speed, non-sawdust cutting small size PVC profile.
With direct servo motors installed.
Speed range: 0.1-50m / min.
Any more details you may need, please do not hesitate to contact with us!
Technical Parameters
Technical Parameters
| | | | | |
| --- | --- | --- | --- | --- |
| Model | YF180 | YF240 | YF300 | YF500 |
| Max. width of product(mm) | 180 | 240 | 300 | 500 |
| Extruder model | SJSZ55/110 | SJS65/132 | SJSZ65/132 | SJSZ80/156 |
| Extruder power(kw) | 22 | 30/37 | 37 | 55 |
| Cooling water(m3/h) | 5 | 7 | 7 | 10 |
| Compressed air(m3/min) | 0.2 | 0.3 | 0.3 | 0.4 |
Your requirements are the basis for our development and a daily challenge to bring to fruition, please do not hesitate to inquiry us.