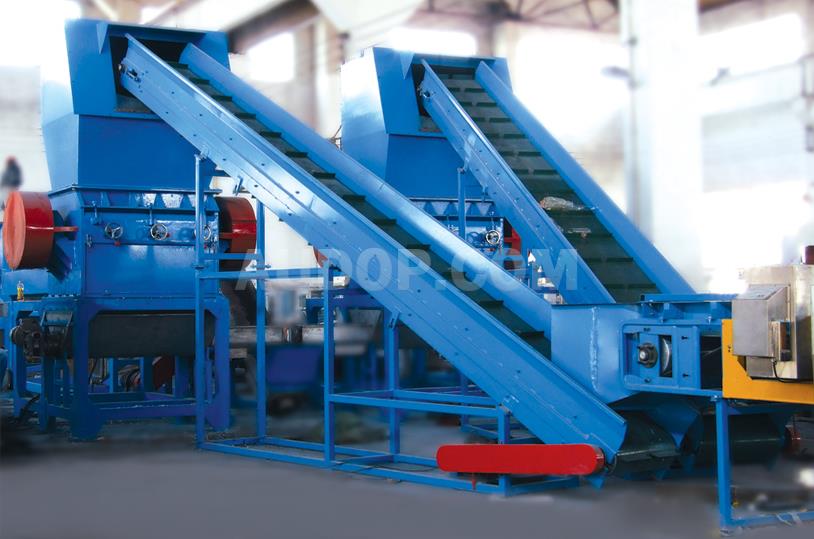 General description of Plastic Crusher Machine:
Audop Plastic Crusher adopts advanced European technologies and matched CE standard. It is mainly used for grinding all kinds of plastics, rubber, and cables. Audop Plastic Crusher adopts high-speed rotor with a smaller pore size of the screen mesh to grind the material into a smaller size of one particle, Audop Plastic Crusher also can be used as two grinding / crushing device
Plastic Crusher Application:
Audop Plastic Crusher is used to crush the big waste plastic, rubbers, cables to small size.
Plastic Crusher Machine Suitable for:
1. PET bottle, drink bottle label, bottle cap,
2. PE film, agricultural film, bag, PE pipe, water pipe, drainage pipe,
3. PP woven bag, PP water drum, PP cup, PP film, sheet, pallet, basket
4. LDPE/HDPE film, sheet, flake, lump, board,
5. PVC pipe, profile, window frame, door frame, soft PVC door curtain
6. Wood plastic window/door,
7. PC/ABS water drum, LOCK and LOCK crisper,
8. Rubber tyre, rubber/plastic material from injection mold,
9. TV shell, keyboard, mouse, TV remote controller, toys, torch, plastic helmet, file folder, brochure shelf, canvas, coat hanger, bumper bar, gas tank
10. Fiber, coconut fiber, jute fiber
11. Nylon
12. Non-woven fabric
13. Leather, artificial leather, leather shoes, leather clothes, leather hand bags
Working principle of Crushing Machine:
Taking the waste material into crushing room from the hopper, then using the rotation of the rotary blades and squeeze with the stationary blades to crush and grind. After that, smaller material will be through the screen mesh and bigger material will be crushed again till into small size. The hole of the screen mesh is among 8-14mm.
Features:
1. The whole machine body is made of special strong steel.
2. Blade material adopts SKD11 or D2 through special manufacture process and heat treatment; Blades base is made of T10high quality steel with pyro condensation treatment, hard to be broken and damaged.
3. V-shape cutting geometry to minimize friction between crushing material and both interior sidewalls.
4.Heavy burden type bearing can keep the unit from vibrating and noise, and prevent the material from pollution.
5.Equipped with pulley device for reducing speed.
6. Has protection system with the power supply to ensure the equipment safe.
7. Opening the hopper automatically with a motor and two mini limited switch.
Advantages:
1. Compact and sturdy construction for standing wear.
2. More stable and durable blades and blade base.
3. Excellent crushing effect for waste material.
4. Low pollution, noise and large handling capacity.
5. Cost-effective, low-input with high return.
6. Safe operation and safe cleaning.
7. Easy repair and maintenance for blades and blade base.
Long use life
8. Standard models can be connected to air delivery device.
Details of Plastic Crusher Machine
Cutting chamber
The cutting chambers are entirely made of high hardness steel CNC machined and fine ground before assembly. Long life is ensured by the use of heavy wall thickness and high grade materials that will not contaminate the material being ground.
The design allows to open the hopper automatically with a motor and two mini limited switch for easy disassembly, repair, and maintenance.
Rotor
Rotors adoptT10 high quality too steel for toughness and durable. Rotors adopt dynamic balance for stable running. The V-shape rotor knives are easy to change and produce a consistent particle size. It is fastened with 12.9 grade screw bolts for secure.
Knives
The knives are manufactured form high chromium SKD11/D2 with heat treatment for high strength, maximum breakage resistance, and durability. The design allows for easy replacement.
Pulley
The pulleys are fitted between motor and rotor shaft with taper lock bushings. The motor drive the shaft and makes the rotor low-speed running by pulleys. The inertia effect of the massive pulley assures steady,reliable operation while the taper lock mounting provides ease of maintenance.
Screen
The long life screens are either machined from high Strength pipe or formed from high grade plate as required.Many different hole sizes are offered and easy change mountings allow you to tailor the machine to your needs.
Hopper
Hoppers are enclosed with high density sound proofing material to reduce the noise levels. Check PVC curtains in the hopper openings are provided to prevent plastic from being thrown back out.
Specifications & Models
Type

PC-250

PC-300

PC-400

PC-500

PC-600

PC-800

Rotary blade diameter(mm)

200

250

400

400

400

450

Quantity of rotatory blades

15

18

24

15

18

24

Quantity of stationary blades

2

2

4

2

2

4

Mesh size(mm)

8-14

8-14

8-14

8-14

8-14

8-14

Crushing capacity (kg/h)

80-200

100-300

200-400

300-500

400-600

500-700

Power kw)

4

5.5

7.5

11

15

22

Inlet Size (mm)

250×145

300×180

400×250

500×310

600×350

800×460

Weight (kg)

340

480

660

870

1000

1550

Overall dimensions

(cm)

100×70×105

110×80×120

130×90×170

140×100×165

145×125×172

150×140*180
Please feel free to contact with us for more details!