Overview
PET Bottle Hot Washing Recycling Machine, PET flakes Making Machine
PET Bottle Washing Line Recycling Machine from AUDOP takes dirty PET bottles such as the mineral water bottles, pesi bottles, oil bottles as its input and outputs clean PET flakes. The clean recycled PET bottle flakes processed by PET bottle processing machine can be used to produce the polyester staple fiber, PET strap band, granules, PET transparent film and sheets, etc. The top class PET bottle flakes can be used to mould the PET bottles again.
AUDOP's PET Bottle washing line and recycling machine has output capacity ranging from 300kg to 3000kg per hour.
The key feature of the PET Bottle Crushing Recycling and Plastic Washing Line is its ability to obtain clean PET flakes even from dirty bottles containing a mixture of liquids – it even collects the labels and paper scraps. All waste water is recycled and reused by the Water Treatment System build-in within the washing line.
The whole line operate without sullage disposal and equipped with dirt collection system to keep your workshop clean.


Process Introduction of PET Bottles Washing Recycling Machine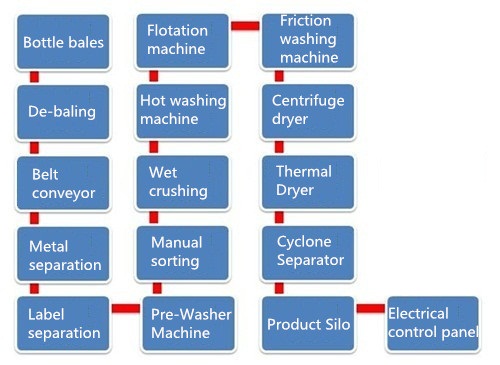 Introduction of Equipments in PET Bottle Hot Washing Recycling Plant, PET Flakes Washing Line
1. Trommel Separator – A large, slow rotating machine used to remove small pieces of contamination. At the core of the trommel separator is a large mesh screen tunnel that rotates between 6-10 rotations per minute. The holes on this tunnel are small enough so the PET bottles will not fall through, however, large enough so small particles of contamination will.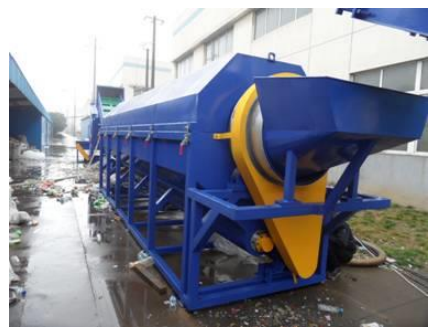 2. Label Separator – The stream of plastic leaving the granulator is composed of PET flakes, paper and PP/PE/PVC film from the labels, and PP/PE rigid plastics from the bottle caps. This mixed stream is now ready to be sorted. The first step is the label separator where a column of pressured air blows away the lighter paper and plastic film into a separate collection tank.
3. Wet Granulator / Crusher – The bottles are cut into "flakes", or small pieces, via our wet granulator. Simply put, a granulator uses an open rotor mounted with heavy-duty knives that spin at high speeds. As the PET bottles enter the granulator's cutting chamber, these rotating knives come into contact with stationary knives cutting the bottles into small pieces. A screen with small holes between 12-18mm in diameter is used to control the size of the flakes; That is, the PET plastic will continue to be cut within the chamber until it is small enough to fall through the holes on this screen. All the while, water is sprayed into the cutting chamber partially washing the bottles while acting as a lubricate to reduce friction of the knives and plastic.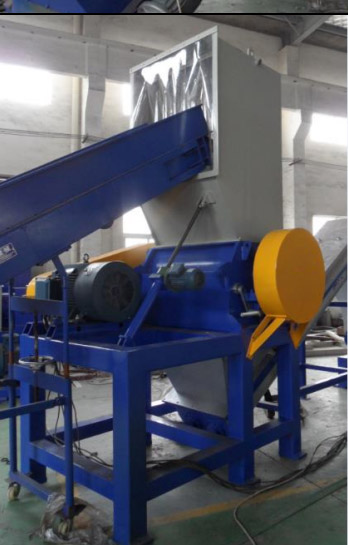 4. Sink / Float Separation Tank – A large tank of water used to separate materials that sink from those that float. This is the final separation equipment in our PET bottle washing line that effectively removes the left over plastic films from labels and PP/PE bottles caps. As both the labels and bottle caps float in water, the sinking PET flakes can easily be removed to be further processed in the next piece of equipment.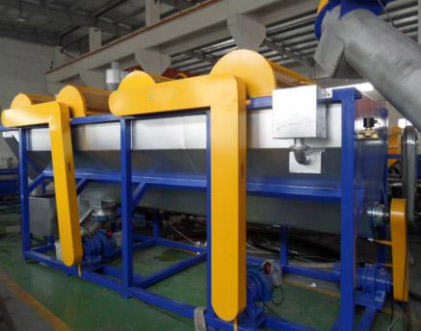 5. Hot Washer For PET Flakes – Similar to a washing machine in nature, this stream of PET flakes are washed using boiling hot water which sterilizes and further gets rid of contaminants such as glues (from the labels being glued on), grease/oils, and difficult to remove left-overs (beverage/foods) from the equation.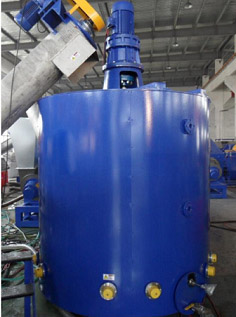 6. Friction Washer – A secondary friction washer (cold water) is used to cool and further clean the PET flakes in a scrubbing manner.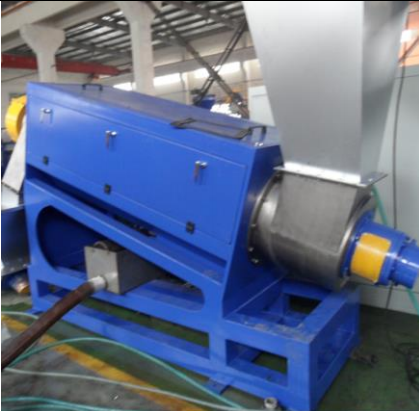 7.High Speed Dewatering Machine – The dewatering machine uses centrifugal or "spinning" force to remove a portion of the water from the PET flakes. It's a cost-effective way to dry the PET flakes before it's thermally dried. Thermal drying consumes much more energy
8. Thermal Dryer + Cyclone Separator – The partially dried PET flakes can now be completely dried using the thermal dryers. Within the long tubes of the thermal dryers, hot air and the PET flakes are mixed together where the leftover moisture is dehydrated. The final cyclone separator mixes the hot, moist air with a flow of cold air cooling the PET flakes in preparation for storage. The cyclone separator is also the last defence against fines such as dust.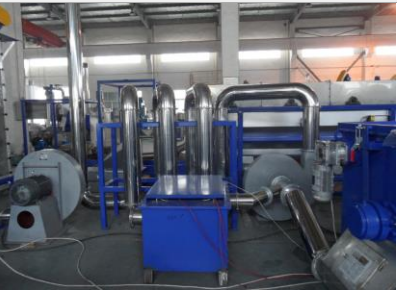 9. Product Silo – A large storage tank for the clean, dry PET flakes.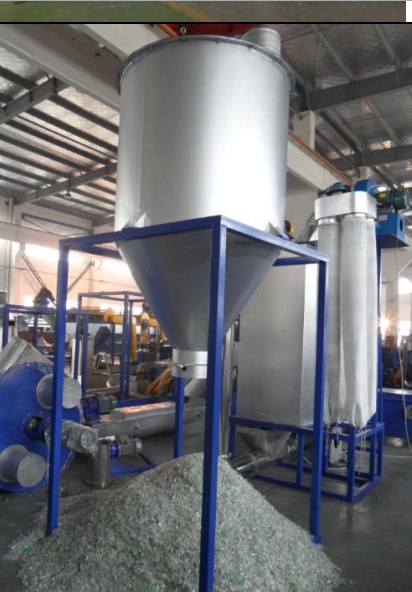 PET Bottle Recycling Line Configuration: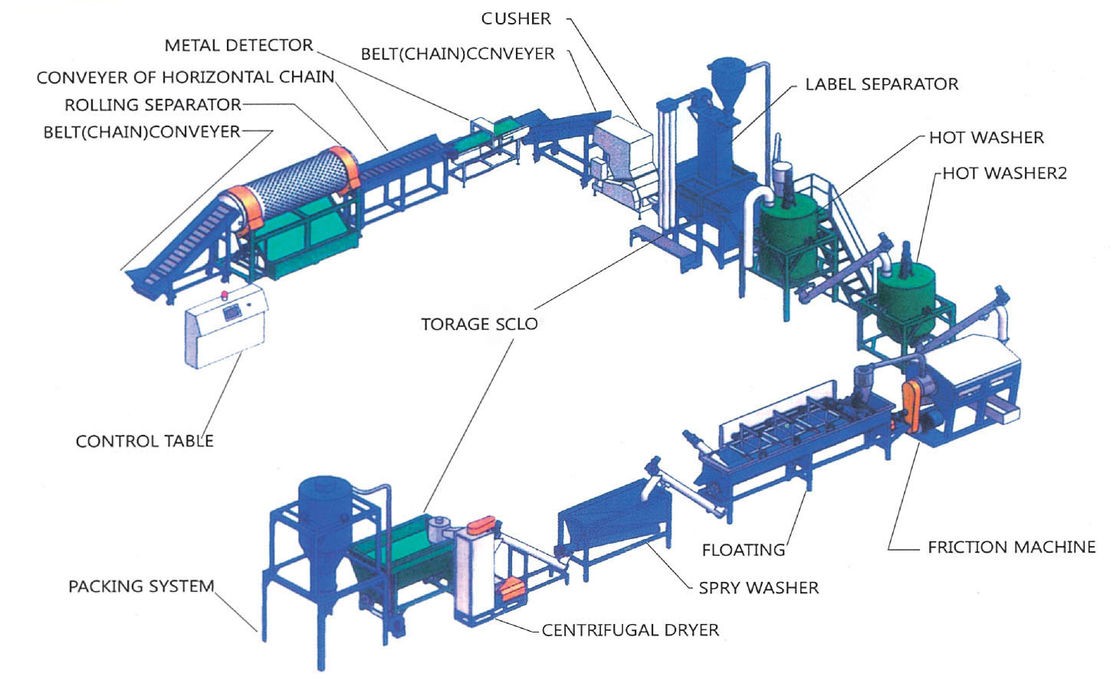 The line process are generally based on our previous successful project, we can adjust the specification according to your requirements.
PET Flakes Quality Reference Table:
Any more details about PET bottles Washing and Recycling Plant you may need, please feel free to contact with us!
Technical Parameters
Technical Parameters
| | |
| --- | --- |
| Index | Parameter |
| Flakes | 8~12 mm |
| Moisture | < 1 % |
| Gule | < 10 ppm |
| PP/PE | < 20 ppm |
| Metal | < 20 ppm |
| Color Flakes | < 30 ppm |
| Label | < 20 ppm |
| Total Impurity | < 90 ppm |
| PH | Nature |
| PVC | < 20 ppm |
Your requirements are the basis for our development and a daily challenge to bring to fruition, please do not hesitate to inquiry us.