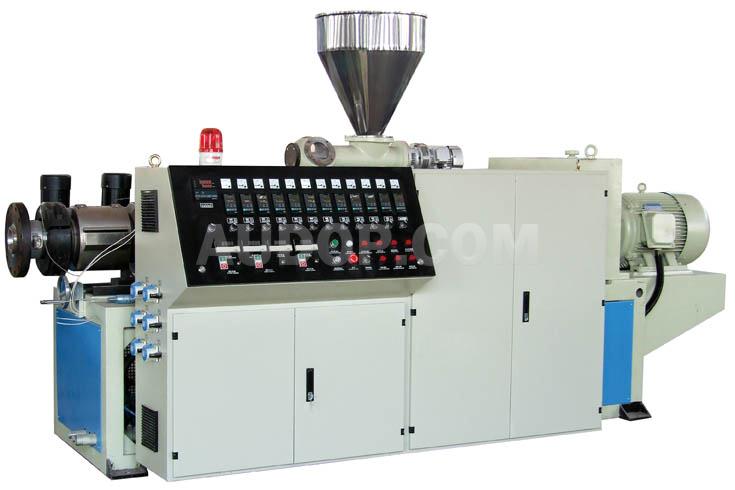 Features
Reduction torque distribution gear casing of high performance
High precision, wide range adjusting, forced quantitative feeder
Perfect and precise automatic temperature control system
Reliable and effective vacuum exhaust unit
Screw core circulating oil heating device, convenient for temperature control
High efficiency, low noise air cooling system
Precise and stable speed control system
Overview
Conical Twin Screw Extruder, SJZ(SJSZ) Series Twin Screw Extruder
Applicable Products: Pipe, Tube, Profile, Pellets(Granules), Board, Plate, Sheet and Film, etc.
Applicable Materials: PVC, PE and PP, etc.
Alias: Conical double screw extruder, twin screw extruder, double screw extruder,PVC extruder
This Conical Twin Screw Extruder is used for:
Plastic pipe and tube extrusion
Conical twin screw extruder is designed for extrusions of many kinds of PVC pipe, PVC tube such as: PVC drainage pipe, PVC electrical cable, UPVC irrigation pipe, PVC water supply pipe and kinds of flexisible PVC pipe, etc.
Plastic board, plate, sheet and film extrusion
Conical twin-screw extruder is widely used for making kinds of boards, plate, such as PVC foam board, WPC(wood plastic composite) plate, and so on.
Plastic profile, stick extrusion
Conical twin screw extruder machine is very applicable for extrusions of plastic profiles, such as profiles for door and window, and so on.
Plastic pellets extrusion
Conical twin screw extruder is also very applicable for plastic pelletizing process, such as making filler masterbatch for extrusion and so on.
Audop supplies all the conical twin-screw extruders and corresponding auxiliary machines or systems to meet your business demands. You get the freedom to build your extrusion line around the system components that meet your exact requirements. All subsystem and support equipment such as feeding device, dies, control panels, etc may be included to provide a total system concept. The end result is superior quality, highly reliable machines that turn products into bigger profits for you.
While the above may sound similar to other suppliers, we can assure you that the specific execution that we utilize is dramatically better. Upon request we can provide further specifics of our unique and proprietary approaches, on-going continuous improvements.
Technical Parameters
Technical Parameters
Technical Info of Conical Twin Screw Extruder
Model
Screw Dia
(mm )
Screw speed
(rpm)
Length
(mm)
Motor
(kw)
Heater Power
(kw)
Max Output
(kg/h)
Net Weight
(kg)
Dimension
(mm)
SJZ-45
45/100
1-38
1000
15
12
95
3000
3360X1290X2127
SJZ-51
51/105
1-38
1080
18.5
18
120
3800
3620X1050X2157
SJZ-55
55/113
1-38
1150
22
18
150
4200
3620X1350X2157
SJZ-65
65/132
1-36
1440
37
24
250
5000
4235X1520X2450
SJZ-80
80/156
1-34
1800
55
36
400
6500
4750X1550X2460
SJZ-92
92/188
1-33
2500
90
45.4
700
8000
6725X1550X2814
SJZ-105
105/220
1-32
3330
185
108
1400
10000
6900X1735X2600
Note: Due to continuous research and development, specifications shown on quotation sheet may be different with that on this catalog. Correct specifications are based on the quotation sheet.
Your requirements are the basis for our development and a daily challenge to bring to fruition, please do not hesitate to inquiry us.

Customers viewing this product may be also interested in: