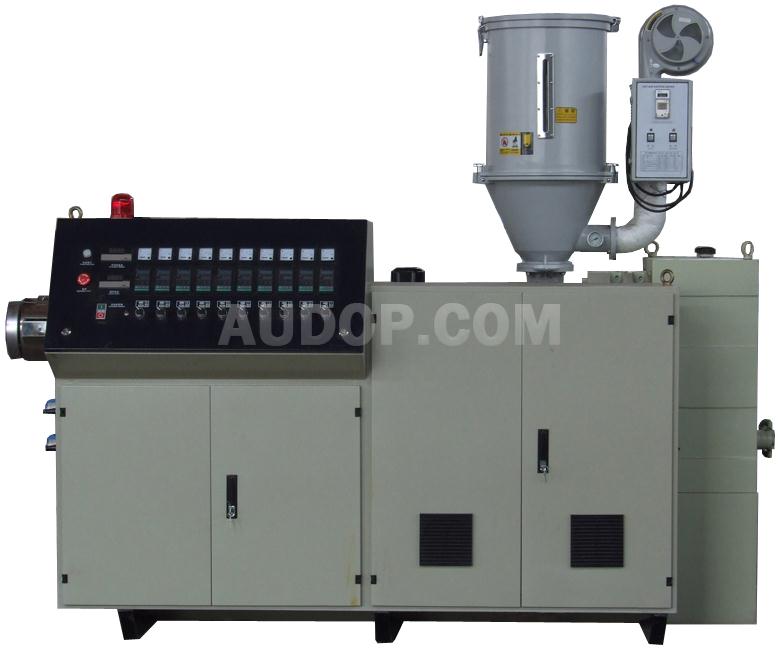 Features
Good melt homogeneity
Good plasticization
Wide range of processing applications
Easy and trouble-free operation
Easy synchronisation of co-extruder or downstream equipment
Minimized space requirement
Overview
Single Screw Extruder
Applicable Products: Pipe, Tube, Pellets(Granules), Film, Sheet, Plate, Profile, Rod and Filament, etc.
Applicable Materials: PVC, PE, PEX, PP, PP-R, ABS, PET, PS, PC and PMMA, etc.
This Single Screw Extruder is used for:
Plastic pipe and tube extrusion
Single screw extruder is suitable for extrusions of many kinds of plastic pipe, plastic tube such as: PE gas supply pipe, PP-R pipe, PEX pipe, PAP pipe, ABS pipe, HDPE solicon cored pipe, flexisible PVC pipe and many other kinds of co-extruded composite pipes, etc.
Plastic film, sheet and plate extrusion
Single screw extruder is often used for making kinds of PVC film, PET sheet, PE plate and so on.
Plastic profile, rod, filament extrusion
A single screw extruder machine is also appliable for extrusions of plastic profiles, plastic rods, and filament by changing the structure of the screw and the die.
Plastic pellets extrusion
A single screw extruder is the core part of many plastic pelletizing system, it is often used for recycling PE films, PP films, PS flakes, PET flakes and so on.
Audop supplies all the single screw extruders and corresponding auxiliary machines or systems to meet your business demands. And, since that, you get more than just proven quality and reliability. You get the freedom to build your extrusion line around the system components that meet your exact requirements. All subsystem and support equipment such as feeding device, dryers, screen changers, control panels, etc may be included to provide a total system concept. The end result is superior quality, highly reliable machines that turn products into bigger profits for you.
While the above may sound similar to other suppliers, we can assure you that the specific execution that we utilize is dramatically better. Upon request we can provide further specifics of our unique and proprietary approaches, on-going continuous improvements.
Technical Parameters
Technical Parameters
Technical Info of Single Screw Extruder
Model
Screw L/D
Screw Rotate Speed
(rpm)
Drive Power
(kw)
Center Height
(mm)
Output
(kg/h)
SJ25
25:1
20-120
2.2
1000
5
SJ30
25:1
20-180
5.5
1000
10
SJ45
25/33:1
20-150
7.5-22
1000
50-150
SJ65
25/33:1
20-150
22-90
1000
60-250
SJ75
25/33:1
20-150
55-110
1000
200-350
SJ90
25/33:1
20-110
37-185
1000-1100
280-550
SJ120
25/33:1
20-90
75-280
1000-1250
320-880
SJ150
25/33:1
20-75
90-355
1000-1300
400-1200
Your requirements are the basis for our development and a daily challenge to bring to fruition, please do not hesitate to inquiry us.

Customers viewing this product may be also interested in: