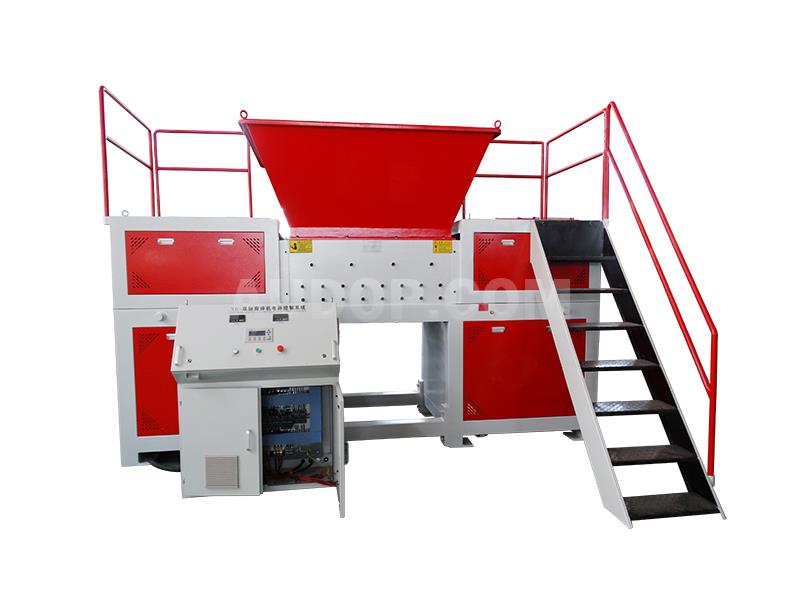 Features
Very thick welded sheet steel support;

Support for barrel roller bearings with sealing system against dust and liquids;

High thickness shafts with special anti-wear steel cutters and spacers to facilitate unloading of shred material.

New graduated arrangement of cutter teeth for better taking and cut progress;

Welded sheet metal hopper for top loading;
Overview
Waste Plastic Double Shaft Shredder Machine
Applications:
Very multipurpose machine suitable for shredding an enormous number of waste materials- even very large. It can be introduced into a line to operate in continuous working.
Recommended for shredding pieces of wood, rags, plastic blocks, small tires, paper, cardboard, packaging, plastic film, drums and IBC containers etc.
Those material are shredded to reduce the size and processed further if required into a suitable granulator before being reintroduced into the production process.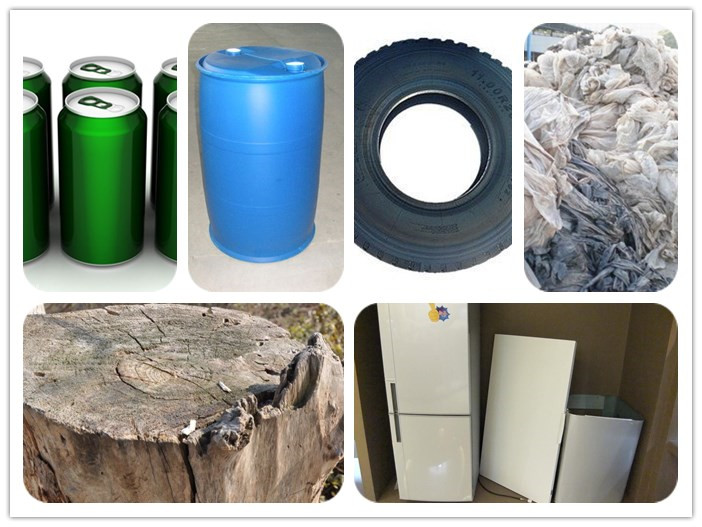 Working principle:
Plastic Shredder is composed by a two-shaft shredder with rotary blades and spacer combs.
Once the material is into the hopper and the machine is ON, the shredder catches the material and begins to cut it grossly.Thanks to the high cutting torque and the different conformation of the cutters group it's possible to shred pieces made of different materials.
The process shredder machine is automatically regulated by a PLC that can be programmed through the display placed on the electric board.
Advantages:
1. To warrant the best quality to our products all our shredders are equipped with SIEMENS motors.
2. The frame and structure of our shredders are made of high-thickness sheets and tubular. This gives big resistance against the most demanding jobs.
3. Blades 42CrMo Steel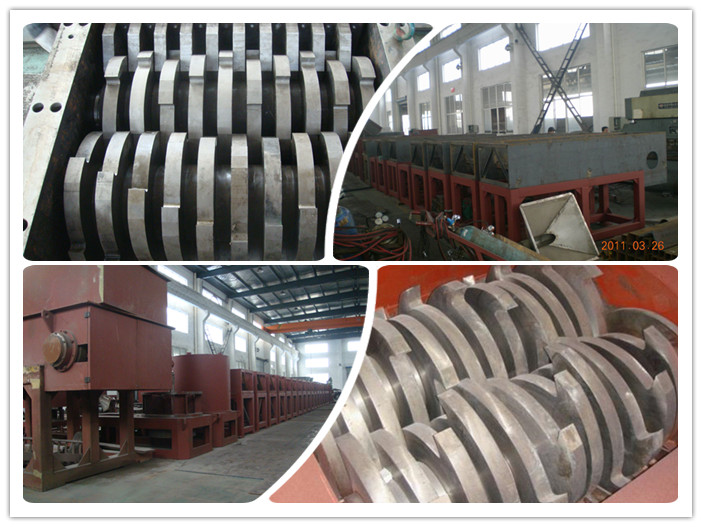 4. Automatic reverse sensors to protect the machine against over loading and jamming
5. Emergency control functions for stopping the plant in the case of accidental introduction of ferrous material.
6. Utilizes high torque at low speed to maximize power and minimize noise
7. Separate electric control cabinet with Siemens PLC Control System
The whole system conforms to the applicable CE safety standards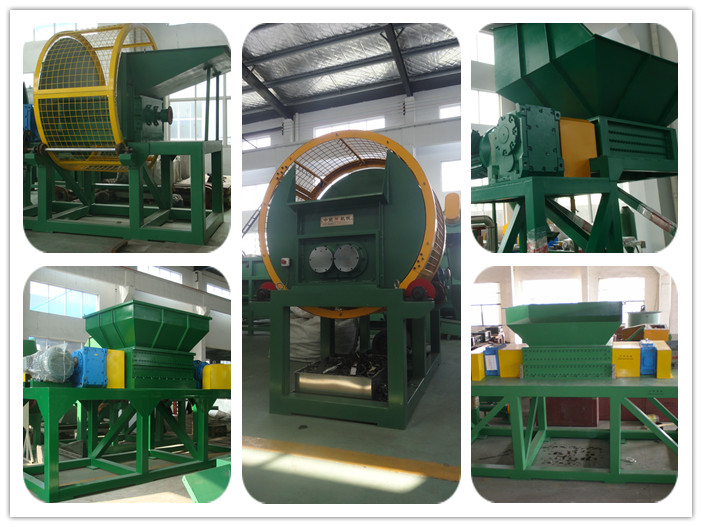 Benefits:
No matter you want to reduce the size, upgrade or shred tons of plastic scrap, wood scrap, electrical scrap, organic waste, metal scrap or other kinds of solid scrap intospecify sizefor sale or as part of mixture to reduce the cost of raw material in extrusion process, we are moving effectively to provide this cost-effective double shaft shredder for you, with lower investment cost, you will get a high quality and durable equipment to realize what you want.
If you are interested in getting more information of our double shaft shredder machine and plastic crushing machine, please do not hesitate to contact with us, thank you!
Technical Parameters
Technical Parameters
Model
Main parameter
AUD-600
AUD-800
AUD-1000
AUD-1200
AUD-1400
AUD-1600
Motor power
15or22kw
22or30kw
37-45kw
55-75kw
(45-55)kwx2
(55-75)kwX2
Blades
20pics
16pics
20pics
24pics
20pics
23pics
Blades thickness
30mm
50mm
50mm
50mm
70mm
70mm
Rotation
diameter
280mm
280mm
320mm
380mm
450mm
500mm
Rotor speed
17/21rpm
17/21rpm
17/21rpm
17/21rpm
13/18rpm
13/18rpm
Chamber size(mm)
600X485
800X485
1000X560
1200X670
1400X820
1600X890
Capacity
(kg/h)
400-500
600-800
800-1000
1000-1500
1500-2000
2500-3000
Your requirements are the basis for our development and a daily challenge to bring to fruition, please do not hesitate to inquiry us.

Customers viewing this product may be also interested in:
1. Double Speed Hydraulic system and standard air cooling device
2. Hydraulic pusher, independent power systems, solid structure, smooth running, can shred large bundles of plastics,convenient feeding.
3. Spindle driven by a gear box, smooth running, low noise, large torque.
4. PLC program control system, fully automatic operation to make machine run more safe and reliable.
5. Knife material: Cr12MoV (Japanese brands SKD-11, U.S grade D2); low use and maintenance costs, easy to replace.
6. Rotary knives adopt "V" shaped installation manner, to make rotary knives cut materials evenly, reduce energy consumptionand noise; each rotary knife has four cutting edges, can be rotated 90 ° to use continuously if one side is worn out.
7. Fixed knife can be adjusted to maintain the gap with rotary knife. Each fixed knife can be rotated 180 ° to use continuously if worn.
Blades on the rotor can be disassembled, easy to clean and maintain.
8. Material size can be adjusted by screen size.
9. Natural rubber rings to reduce vibration protecting the drive components of gear box.